HANDCRAFTED VERMOUTH OUT OF THE BEST BOTANICALS
To know more about Vermutti Original Formula
VERMUTTI ORIGINAL FORMULA
SPANISH TRADITION, FINNISH INSPIRATION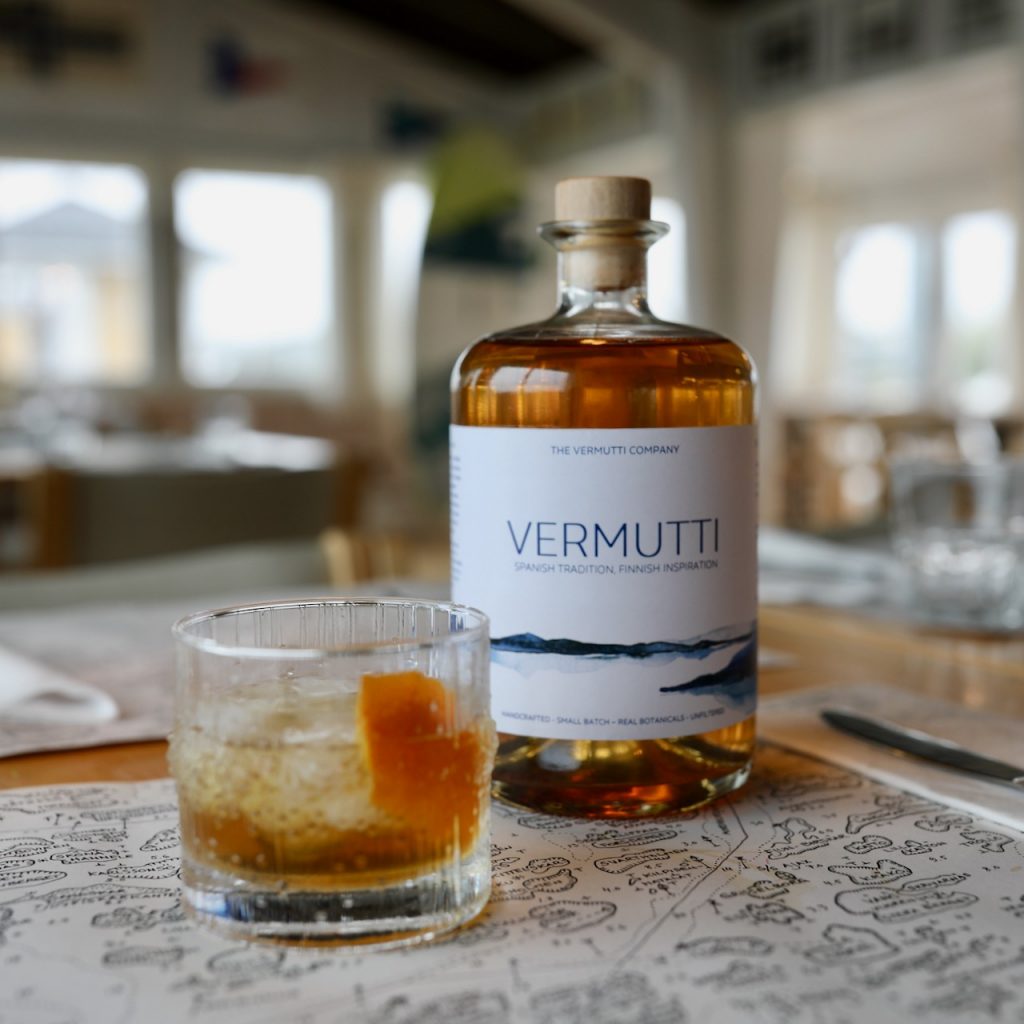 Spanish tradition, Finnish inspiration. This is what gives Vermutti Original Formula, the first vermouth elaborated in Finland, its uniqueness in its color, flavors and aromas. Vermutti Original Formula is handcrafted out of the best botanicals and ingredients.
In the nose, coffee and orange aromas. In the mouth, scents of white flowers, berries from the forest and bittersweet nuances of spices such as liquorice and cinnamon. At its finish, toasted notes of oak, followed by a herbal touch of birch and spruce with a soft and pleasant punch of bitterness.
Vermutti Original Formula is very versatile and can be enjoyed as an aperitif, as a dessert wine, as a digestive as well as part of a cocktail.
REAL BOTANICALS, HANDCRAFTED EXPERIENCE, SHARED JOY
Our goal is to foster and promote a culture of high-quality vermouth in Finland and to create a new handcrafted vermouth product family, that is based on pure Nordic raw materials and flavours and traditional manufacturing methods.
The founders of The Vermutti Company are Raúl Partida and Antti Pitkänen. A Spaniard and a Finn who met in Madrid about twenty years ago and who both eventually ended up living in Helsinki. The two friends share a passion for cultivating good food, drink and togetherness in a culture. This passion is now translated into Vermutti Original Formula.
– For your eyes –
Bright and warm golden color, reminiscent of the iconic Midnight Sun.
– For your nose –
Coffee, orange, spruce, and birch aromas followed by floral essences.
– For your mouth –
A balsamic touch of liquorice, cinamon and cardamom.
A punch of gentle bitterness and refreshing acidity enhances the experience.
Vermutti Original Formula is handcrafted following traditional methods of elaboration of vermouth. We use only real botanicals and the best ingredients possible. The botanicals are macerated for several days in distilled spirits. After that period, the natural extract is resting for another week.
No filtering is applied but clarification by gravity. The natural extract is blended with Macabeo wine from Castilla La Mancha – birth place of Don Quixote – and caramel is used as a sweetener and color agent to give Vermutti its golden color. After blending, Vermutti Original Formula is matured in stainless steel for integrating all flavors and aromas before bottling.
– STRAIGHT VERMUTTI  –
Pour 8 cl. of Vermutti Original Formula into an on-the-rock glass with a couple of rocks of ice. Garnish with a twist of orange peel and enjoy!
You can enjoy Vermutti Original Formula as an aperitif or even as a dessert wine!
– VERMUTTI TONIC –
Pour 8 cl. of Vermutti Original Formula into a cocktail glass with a couple of rocks of ice. Mix with tonic water at your convenience and taste. Garnish with few juniper berries and a twist of lemon peel and enjoy!
Super refreshing cocktail for after a nice meal.
– VERMUTTI SOUR –
Pour into a shaker 6cl. of Vermutti Original Formula, 2cl of your favorite gin and, 1 egg white. Shake it and pour it into your favorite glass with a large ice cube!
A super aperitif to surprise your guests!